WITOSKY'S IOWA WILD SEASON PREVIEW
Oct 6, 2017
By Tom Witosky| Follow @toskyAHLWild
When Luke Kunin, Zack Mitchell and Niklas Svedberg take the ice Saturday night, each of them will have the same goal – making it to the NHL but doing it while providing the Iowa Wild with a breakthrough season in the American Hockey League.
"Each of them had excellent camps this year," Iowa Head Coach Derek Lalonde, who is entering his second season at the helm of the AHL Wild, said. "Each was disappointed in being sent down and they should be, but each of them has arrived with a positive attitude and understanding of how to get back up there – winning down here."
Iowa opens the 2017-18 AHL season at 7 p.m. at Wells Fargo Arena against Central Division rival Milwaukee Admirals, the affiliate of the Nashville Predators, last year's runner-up for the Stanley Cup, in a weekend back-to-back. The second game begins at 5 p.m. Sunday.
Lalonde said all three players are expected to play key roles as the Wild tries to build on its first winning season in four years to break through into the Calder Cup playoffs at the end of the season. Last year's team, which finished with a 36-31-7-2 record, narrowly missed the playoffs, but fans and players felt the energy of having important games to play at the end of the season. Lalonde said.
"We are hoping to take that momentum we had from last year forward," Lalonde said. "We had an increase in attendance, but there was more energy in the building. It was an exciting energy."
But Lalonde said that the task of getting the club into the playoffs will not be easy. He said that every NHL club is using their AHL affiliates in ways to supplement their rosters on a moment's notice and are willingly spending more money on depth.
"People know that they need to build within their organization and they know they need depth within this new salary cap era," Lalonde said. "The reality is when people understand how important depth is to an NHL team, the AHL salaries are a lot higher. Every team now has three or four of those kinds of players, which makes the competition that much tougher."
Mitchell, who will begin his fourth season in Iowa after playing 11 games with Minnesota last year, said that the mix of players on the Iowa roster this season combined with last year's success should provide the club with a good start. During the offseason, the club signed several top veterans including Cal O'Reilly, who had 50 points in 62 games combined between Rochester and Toronto, Alex Grant, who had 49 points in 70 games with Providence and Ryan Murphy, a first round NHL draft choice in the 2011 entry draft.
"We have such a diverse group of guys and that is positive. Some of them are starting their careers, some are resurrecting their careers and some guys are in the middle. I think it will be a great strength for us," Mitchell said.
As one of the players in the middle along with returning forwards Christoph Bertschy, Colton Beck and Kurtis Gabriel, Mitchell said that his goal is to improve his speed and movement on the ice. "I just want to get off with a good start. I did have a good camp, so I am happy with how things have started. But now I have to do it in a game."
Svedberg, a 28-year-old native of Stockholm, will be the starting goalie for the opening series and is looking forward to getting back to playing hockey in North America. The veteran goalie spent the last two seasons from 2015-17 playing in the KHL after playing 97 games for the AHL Providence Bruins and 19 NHL games for Boston.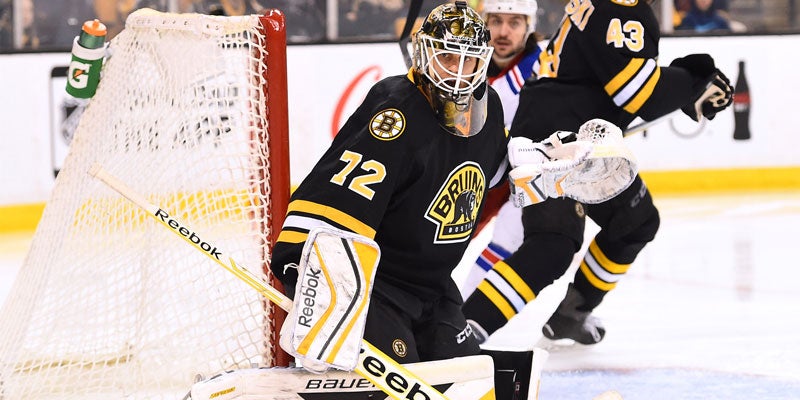 "I came back to the States so that I could make it back to the NHL and I think this is a good way to be able to do that," Svedberg said. "Right now, coming down to Iowa, I am excited to be here. It seems very professional and we seem to have a really good group."
Lalonde said that Svedberg will start the season as Iowa's number one goalie and is expected to play well given his experience.
"He is a highly proven goalie at the highest level in the world," Lalonde said. "He has played very well in the AHL, has experience in NHL games and experience in the KHL. He has a chip on his shoulder where he is knocking on the NHL door and is working to get back there."
Kunin, 19, turned professional late last season after completing his second season at the University of Wisconsin and leading the USA U-20 Juniors to the 2017 IIHF World Junior Championship as the team captain. He played 12 games for Iowa at the end of the 2016-17 season, collecting eight points, including his first professional hat trick.
Lalonde said Kunin's training camp simply made it difficult to send him down to Iowa, but the club's depth made it important for Kunin to play every day in every possible situation. He will likely be on the Iowa power play and penalty kill as well as a top line forward.
"Luke had a great camp and has been a pleasure to work with from the day he showed up here last season," Lalonde said. "He has great inner drive and is a winner. I hope those attributes can be contagious in the room."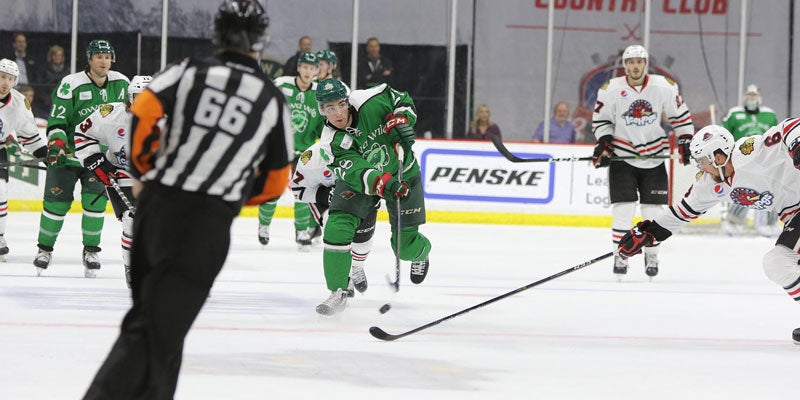 The former Badger captain said that being assigned to Iowa wasn't the first time he has met disappointment, having not made the junior national team in his first attempt.
"It's not the first time I've met adversity," he said. "This is just another time where I have to deal with it."
Kunin agreed that when he arrived in Des Moines this week, he felt positive vibrations for the season.
"There is a good buzz in the locker room already. The guys are upbeat and are having fun. I also think we have a lot of talent in the locker room, so it is exciting to see," Kunin said.
As the season begins, Lalonde said, the most important factor in getting off to a good start is to begin the season with steps toward good chemistry and adjustment.
"This is the time when we try to come together as a team. Because of all the moving parts, it is never easy, but it is critical," Lalonde said.
Notes:
Admirals tough opening opponent… Lalonde said this weekend's games against Milwaukee will be a good test to for the club. Earlier this week, Lalonde noted, Nashville assigned Frederick Gaudreau, who scored three goals in the first four games of the Stanley Cup finals, and Vladislav Kamenev, the Admirals second leading scorer last season, to the Milwaukee roster. "They are a team for the last few years that has been at the top of our standings. They will have guys that played in the Stanley Cup finals last year who will be starting for Milwaukee." Last season, the Wild posted a 4-4-0 record against the Admirals.
Roster healthy: Lalonde said that the club should enter the weekend healthy with only second year player Sam Anas dealing with lower body problem. "Sam is day-to-day, but seems to be coming along," Lalonde said. He also said goalie Adam Vay, who played last year for the Quad City Mallards will be starting goalie Niklas Svedberg's back-up. Second year goalie Steve Michalek has taken a personal leave of absence from the club.
C and A's to be named later: Lalonde said that it will be a while before the club names a permanent captain for the season and assistant captains. "We will share the C and the A's among a number of players before we make a decision," he said, adding the decision-making will be similar to last year's. "The fact is we have five or six stand out but are at different points in their career."
Lines working in progress: Lalonde said he is still working on setting lines for the weekend series. "We've got so many quality players now that making the decisions on who goes where isn't going to be easy, but that's a good thing. This isn't like last year," he said. One likely line is Mitchell, Justin Kloos and newcomer Kyle Rau.
Back to All