WILD WORDS 12.28.17
Dec 29, 2017
By Tom Witosky | Follow @toskyAHLWild
Quotes from the day an NHL star played for Iowa Wild…
Zach Parise made his debut with the Iowa Wild as part of the process to get back to playing for the Minnesota Wild after undergoing back surgery in October. Parise played on a line with Cal O'Reilly and Luke Kunin in a tough 6-3 loss to the Rockford IceHogs.
Parise on why he decided to play in Iowa:
"We don't practice much up (in Minnesota) right now. There are a lot of back-to-backs and a lot of days off. For the most part, I was just getting into morning skates and not getting on a line so getting reps was difficult. I just thought to be able to come here and play a game and knock some rust off was important. It is a good step and challenge."
#mnwild's Zach Parise hit the ice for the first time this season last night with us. Hear his postgame comments and more in the highlight vid 🎬

Full video → https://t.co/MGfShZOFET pic.twitter.com/1wvmmFqvVz

— Iowa Wild (@IAWild) December 29, 2017
Coach Derek Lalonde on the Wild's helping to get Parise ready to return to the NHL.
"It's what we are here for. He is excited to be back and this is part of Zach's process of getting back. It's unique."
But Lalonde also said he had to adjust his lines.
"From the outside, people assume it's a boost, and it was offensively. But it was more involved. (Kyle) Rau and (Christoph) Bertschy have been in the top six all season, but had to go to the fourth line. It is just unique, plus we were coming off the Christmas break."
Parise spent a nervous day waiting for the game to begin. He said that he wasn't concerned about his physical condition, just getting back to playing.
"It's been a long time since I played a game. I wasn't worried about reinjuring it. It was about getting back into the game. I thought it was great."
Parise also said he had to focus on remembering how he prepared himself for a game. That includes a stop at a local Starbucks, he said.
"You remember the routine as you work it out - remembering I do this, and do that, based on the timing of the game. I don't think I forgot anything."
Parise said that he felt rusty during the first period, but felt better about his game as it progressed.
"I felt more and more comfortable. If I wasn't so rusty, I feel like I could have got Luke (Kunin) about 4 goals. My passing was a little off."
Parise also said he believes he can be catalyst to help Minnesota improve its play at a critical time in the season.
"I feel like I can. I know they are playing hard. It won't happen overnight, but I feel good. I know with my game, it will get there."
Luke Kunin said that he enjoyed playing with Parise in Iowa, but also wished the team could have gotten a victory.
"He is one of the best players in world. Players like that are going to find you. I think I could have had a few more tonight. Just wish we had gotten the win."
---
Here are quotes and notes from Iowa Wild players, coaches and fans over the last month as the Wild has built its best early-season record in franchise history over the first 30 games this season.
Head Coach Derek Lalonde's said the Wild's success this season so far has been remarkable given the difficult early start to the season
"It's been matter of us being in every game. We've taken points in 21 of 30 games. That's really something and that's why we are in second place right now."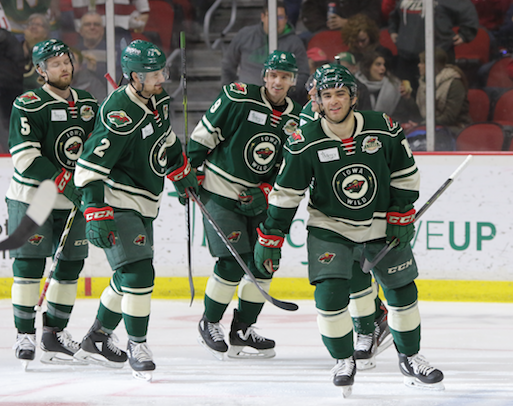 But Lalonde said that the club has a long way to go in a difficult division.
"It is really scary in the fact that Chicago, which is now pushing, and Grand Rapids, which is at the bottom right now, may be the two most talented teams in the league. But that's the division and that's what we signed up for. It is interesting that this is the way it is playing out right now."
Iowa Wild Captain Cal O'Reilly could see the club coming together, particularly on the road. In its last 11 road games, the Wild has compiled a 6-2-3-1 record.
"We are starting to come together on the road," O'Reilly said. "That is where it starts. We are not a big team, but when we play hard good things happen. We are getting to be a close team that plays for each other. That is what winning hockey is."
Forward Justin Kloos on the development of his playing regularly with forwards Sam Anas and Gerry Mayhew. Over the recently completed five-game road trip, the three players have combined to score eight of the club's 16 goals with seven assists.
"We click well because of the way we think the game. What has really jumped started is our success forechecking and keeping the puck in the offensive zone."
As for playing with Mayhew and Anas, Kloos said they are developing chemistry.
"We are starting to learn each other's tendency. Gerry and I want to get Sam the puck with time and space. Overall, it's been our work ethic that is driving our success."
Sam Anas credited his team record eight-game scoring streak to playing with Kloos and Mayhew.
"It's really about them. The chemistry with these guys is working really well. We've had a couple of pucks bounce our way and the power play has been much better, which has really helped.
Goalie C.J. Motte delivered a shutout in his first game for the Iowa Wild after being called up from the Quad City Mallards.
"My goal simply was to give the team a chance to win the game. Getting called up was an honor. They've called you up for a reason and so you try to stick to your game and play it."
Zach Palmquist, who played with Motte for two seasons at USHL Waterloo, said that Motte's play didn't surprise him.
"Not at all. I played with him in Waterloo. We simply know he can play. It was great for our confidence. We were very impressed with him."
Gerry Mayhew explained how he has been able to make it to the AHL despit the skeptics.
"I was always told that I was too small, not fast enough, blah, blah, blah, But that talk always would get me angry so I would go out there and play angry."
Lalonde said the key to the Iowa Wild's defense is just a matter of eliminating time and space when the opponents have the puck.
"Our neutral zone play, our tracking, our gap control has to be good. We must be aggressive on the puck and away from the puck. We need to eliminate time and space."
But Lalonde said the club needs to focus on playing better when holding a lead throughout the game just not at the end.
"We've been playing loose with the lead but that just doesn't mean at the end of the game. It has to do with the end of the first or the beginning of the second or the end of the second and beginning of the third. We need to tighten that up."
Forward Luke Kunin on how professional hockey players are usually willing to give up time to the community for fundraisers and other projects. He and four other players – Brennan Menell, Ryan Malone, Niklas Svedberg and Pat Cannone – recently waited tables at Montana Mikes Steakhouse to raise money for Can Do Cancer, a community-based support group for cancer victims undergoing chemotherapy.
"I've never met a hockey player who wasn't willing to give back. It is just part of the culture, part of the game. It's great to see.
Heather Brewer, vice president of Can Do Cancer, on why the Iowa Wild's participation in community project helps volunteer charities like her group.
"It is wonderful to see them to meet with fans in support of a cause like this. People come here to have personal contact with them. The fact that they are going out of their way to help us spread our name and helps us financially, it says a lot about them."
Back to All