As the premiere professional sports team in Des Moines, the Iowa Wild provide corporate sponsors with many unique activation opportunities. Partnering with the Iowa Wild enables sponsors to reach both local and national audiences through in-game experiences, broadcasts, events, digital media, charitable endeavors, and more. The Iowa Wild tailor sponsorship opportunities to fit the individual needs of each partner and provide a wide range of inventory from which to choose.
Interested in teaming up with Iowa Wild? Contact Brent Arnold at brent.arnold@iowawild.com for more information.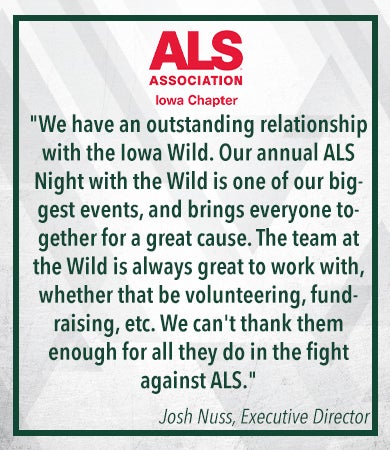 The ALS Association Iowa Chapter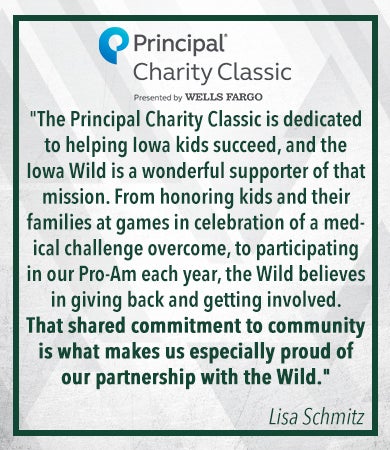 Principal Charity Classic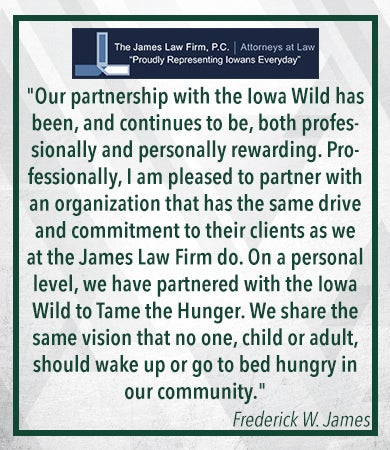 The James Law Firm, P.C.

Brent Arnold - Senior Director, Sales
Brent Arnold - Senior Director, Sales
Phone: 515-564-8723
Email: brent.arnold@iowawild.com
Brent Arnold - Senior Director, Sales
Phone: 515-564-8723
Email: brent.arnold@iowawild.com
Adrienne Beardsley - Manager, Partnership Success
Adrienne Beardsley - Manager, Partnership Success
Phone: 515-564-8735
Email: adrienne.beardsley@iowawild.com
Adrienne Beardsley - Manager, Partnership Success
Phone: 515-564-8735
Email: adrienne.beardsley@iowawild.com
Allie Hartman - Account Manager, Partnership Success
Allie Hartman - Account Manager, Partnership Success
Phone: 515-564-8740
Email: allie.hartman@iowawild.com
Allie Hartman - Account Manager, Partnership Success
Phone: 515-564-8740
Email: allie.hartman@iowawild.com
Niko Kaplan - Account Executive, Partnership Success
Niko Kaplan - Account Executive, Partnership Success
Phone: 515-564-8738
Email: niko.kaplan@iowawild.com
Niko Kaplan - Account Executive, Partnership Success
Phone: 515-564-8738
Email: niko.kaplan@iowawild.com