Wild About Reading
The Iowa Wild supports reading in its local community by providing a program that gives students an opportunity to earn hockey tickets by hitting their reading goals!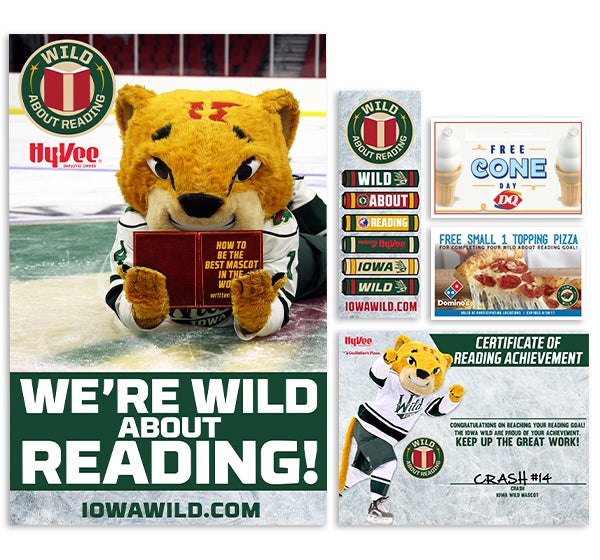 Wild About Reading Program
Goal: The Iowa Wild Wild About Reading program is designed to promote the importance of literacy and stimulate interest in reading amongst elementary and middle school students by providing a fun incentive to read – a ticket to an Iowa Wild hockey game at Wells Fargo Arena!
Classrooms Receive:
Full program instructions
Teacher program checklist
Bookmarks and reading scorecards
A poster promoting the program
Free ticket redemption forms
Domino's pizza coupons
Dairy Queen coupons
Program Outline:
Program runs for two weeks (or otherwise determined by the teacher)
Three reading goals are assigned to the class by the teacher
Each participating student receives an Iowa Wild bookmark and reading scorecard to track their progress toward reaching their reading goals
After each goal is achieved the student receives a prize
Goal 1 – A Dairy Queen coupon
Goal 2 – A free Domino's small pizza coupon
Goal 3 – An Iowa Wild ticket voucher
When a student completes the reading "hat trick", they receive a ticket to an upcoming Iowa Wild home game.
Family and friends are given the opportunity to purchase tickets at a discounted rate.
Five lucky classrooms are randomly selected for a reading visit from Iowa Wild players!
Wild About Reading Program Presented by:
Hy-Vee, Domino's and Dairy Queen