THE WILD WIRE - BLOG #7
Nov 14, 2017
ON A ROLL…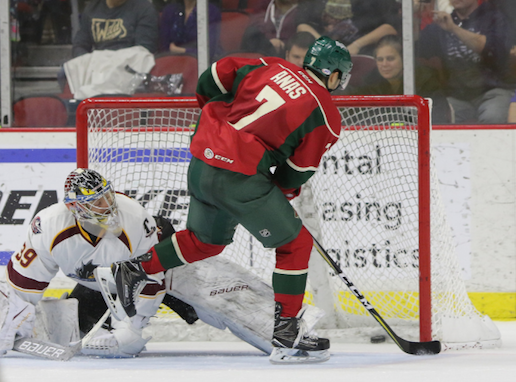 What a week it was for the Iowa Wild!!!
Three games. Three wins. And…back to a .500 record at 6-6-0-2.
This week the Wild displayed a formula that would make any hockey team successful:
Strong special teams play
"Top" players leading the charge
Timely saves from goaltenders
Gritty effort from the "4th line" (especially on Sunday afternoon)
Let's go inside some of the numbers:
7 – points registered by Zack Mitchell in a two-game span, including a career-best, four-point (2 goals, 2 assists) outing on Saturday in a 6-1 win over Cleveland
62.5 – percentage at which the club's power play clicked over the last three games
10 – different goal scorers
0 – number of penalty minutes the Wild accrued in Sunday's victory
89 – total saves by goaltenders Steve Michalek (2 GP) and Niklas Svedberg (1 GP)
En Fuego
Speaking of Mitchell, he racked up seven points in the first two games this past week (as noted above). Until he was held off the board Sunday, the Orangeville, ON native was riding a five-game point streak.
His four-point game on Saturday matched a franchise record for points in a game, equaling the four points Jordan Schroeder totaled on January 29, 2016. Schroeder's effort came in a home-ice win over Charlotte and his four assists that day are still the most single-game helpers for any player in team history.
Surprisingly (ahem….league office), Mitchell wasn't awarded player of the week honors, as that distinction instead went to San Antonio goaltender Spencer Martin. I'm almost certain Mitchell would have claimed the honor with a point of any variety on Sunday, but regardless, he had to have been in the "conversation."
Mitchell, the Wild's all-time leading scorer, now ranks 36th in scoring across the AHL this season with 12 points, despite only playing in nine games.
For his AHL / Iowa career, Mitchell owns 111 points (53g, 58a).
Morning Puck Drop, Part 2
Wednesday morning in Rockford will mark the second time in six days that the Wild and Ice Hogs will take part in a "school day" game.
The Wild got the best of the 'Hogs last Thursday at Wells Fargo Arena, winning 5-3. As much as these games can be difficult for the players, having a second early puck drop within a week probably helps the guys. I'm not saying it'll be easy for them to get their bodies ready for battle, but I'm assuming the brain and body can at least recall what it took to get prepared last time around. You can catch Wednesday's game on 1460 KXNO starting at 10:15 a.m.
Don't forget to check out Tim Witosky's piece on Wild D-Man Alex Grant. You can find it here.
Until next week, let's keep it rolling…….
Wild Joe Radio
Back to All