AFTER FURTHER REVIEW - ALEX STALOCK
May 30, 2017
After Further Review
Over the next few weeks Iowawild.com will feature several players and how their season stacked up in Iowa Wild history.
Goalie – #32 Alex Stalock
GP: 50 - Record 23-17-8, 2.28 GAA, .926 SV % and 4 SO.
Alex Stalock easily put together the best season for a goaltender in Iowa team history. He had staggering numbers and completely rewrote the team goaltending record book. The Saint Paul, MN native set roughly 13 different individual records for an Iowa goalie. In addition, he placed among the best in the AHL for numerous categories including: goals against average, save percentage, minutes played, saves, wins and games played.

More notably, Stalock was a veteran presence in the Iowa locker room, providing tutelage to second-year goalie Steve Michalek and accountability to younger players. His ability to play the puck helped Iowa tremendously throughout the season, making life difficult for teams that "dump and chase."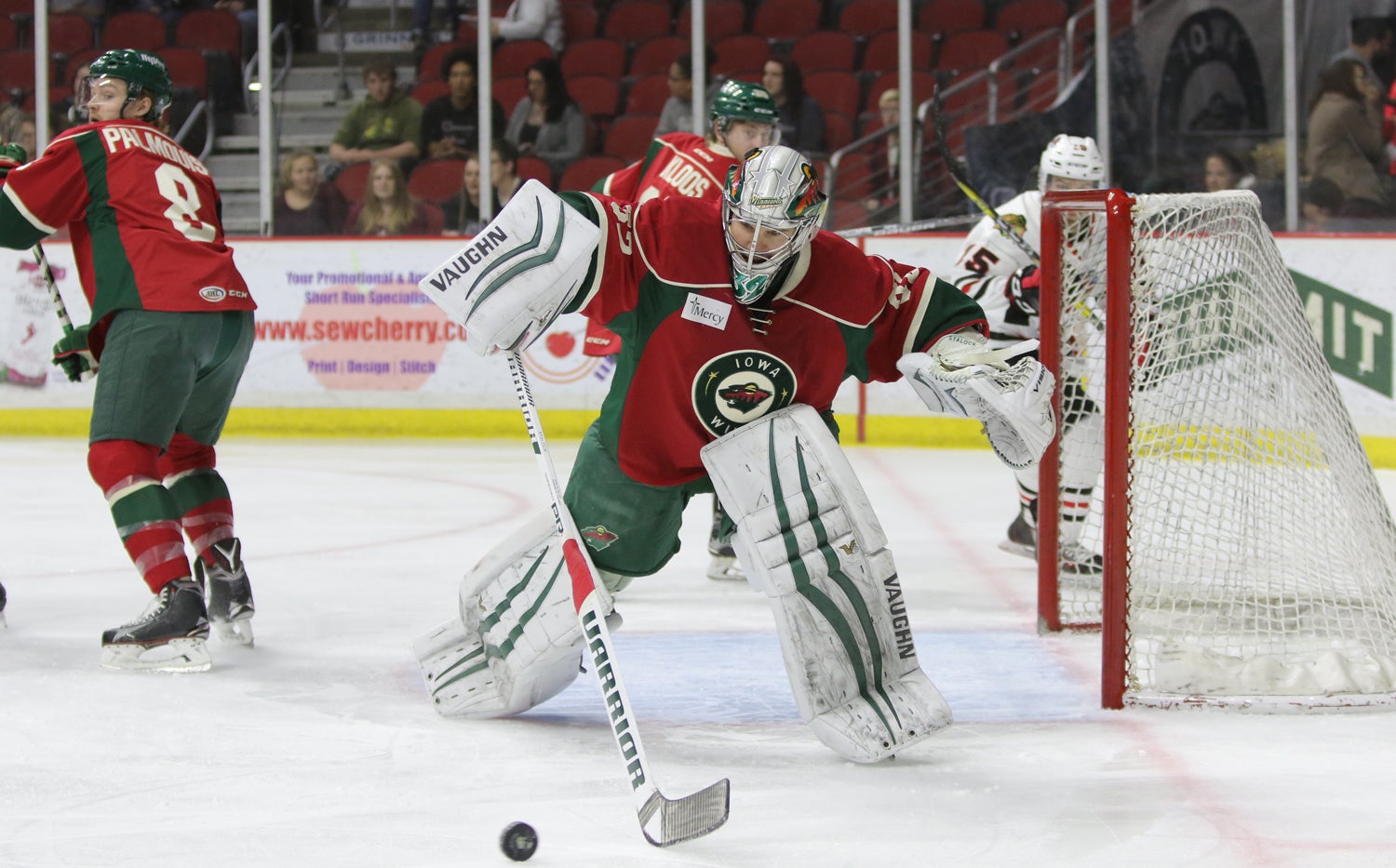 It's hard to pick a highlight that stands out during the 2016-17 season for Stalock because he had so many of them. One standout came on Feb. 3 in Cleveland, when he made a jaw-dropping save on Monsters forward Shawn Szydlowski. The best save in team history was so good that ESPN's SportsCenter tabbed it the No. 2 play of the day. It marked the first time the Iowa Wild made the national sportscast. (WATCH HERE)
Stalock set some impressive records during the season, but maybe his best was not allowing a goal over a stretch of 157:51. From Jan. 27 – Feb. 8, Stalock held both Cleveland and Rockford scoreless over a period of three games. Combined with a shutout by Michalek and it marked a stretch of 222:51 of flawless defensive hockey for the Wild, the longest shutout string in history.

It was not the best start for Stalock, who battled a severe sinus infection to start the year. In his first six appearances, he was 1-5-0 with a 4.46 GAA and a .865 SV%. From Nov. 18 forward, he was the best goalie in the AHL, going 22-12-8 with a 2.01 GAA and a .934 SV%, to go along with four shutouts. At the time of his struggles, Iowa was 5-9-0-1. The Wild went 30-22-7-1 the rest of the season, nearly missing the team's first-ever playoff appearance, but at the same time securing the first winning season in team history.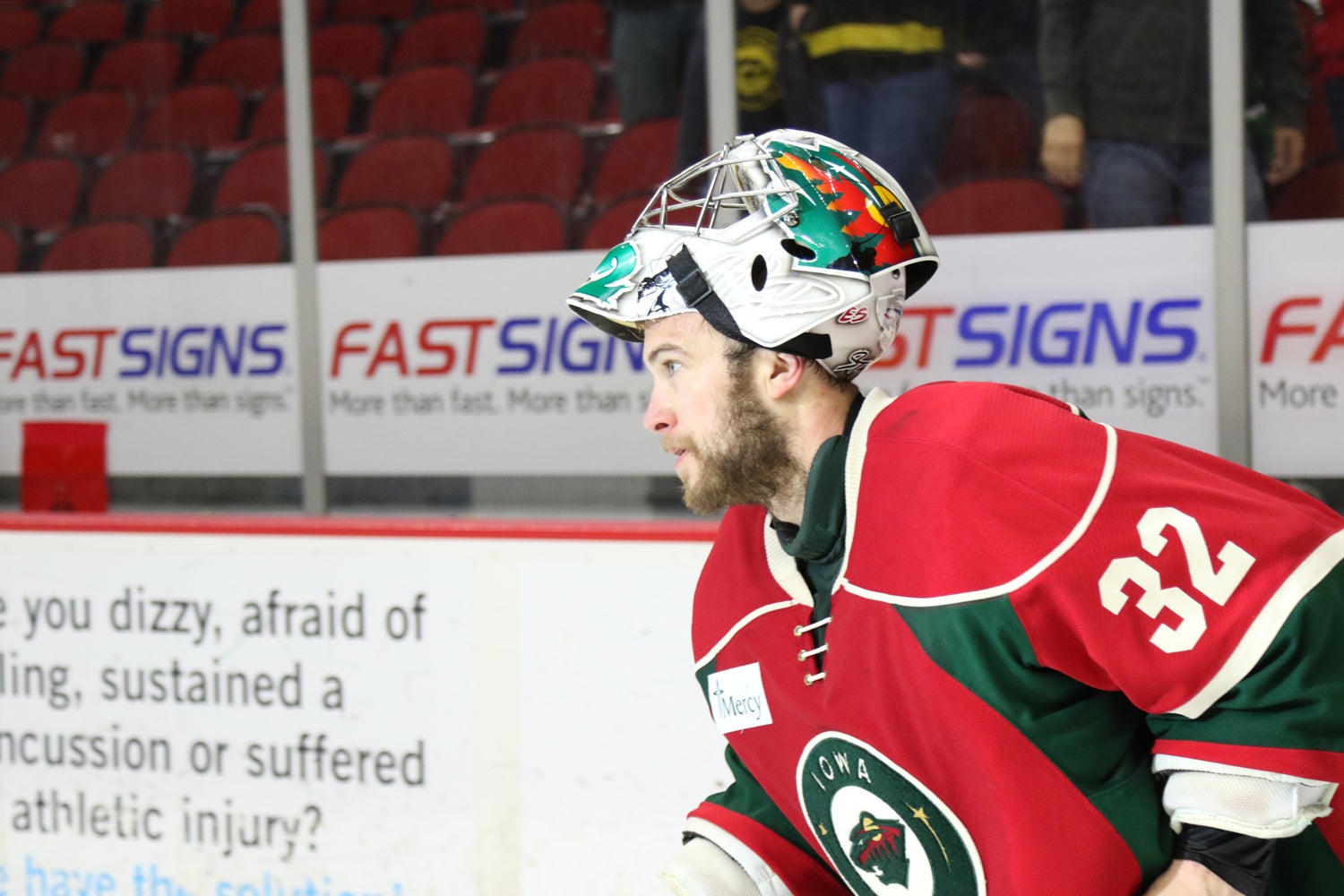 Stalock's Record Log in Iowa Wild History:
Games Played – 50 (most in a season, ranks third all-time)
Wins – 23 (most in a season, ranks first all-time)
Minutes Played – 2,871 (most in a season, ranks third all-time)
Goals Against Average – 2.28 (best in a season, ranks first all-time)
Save Percentage – .926 (2nd best in a season, ranks first all-time in SV%)
Shutouts – 4 (most in a season, ranks tied for first all-time)
Overtime Losses – 7 (most in a season, ranks first all-time)
Saves – 1,357 (most in a season, ranks third all-time)
Shots Against – 1,466 (most in a season, ranks third all-time)
Consecutive Starts – 7 (most in a season- tied John Curry)
More Further Reviews -
Mike Reilly
Zack Mitchell
Alex Tuch

Back to All