AFTER FURTHER REVIEW - MIKE REILLY
May 16, 2017
After Further Review
Over the next few weeks Iowawild.com will feature several players and how their season stacked up in Iowa Wild history.

Defense – #9 Mike Reilly
GP: 57 - 5 G - 25 A = 30 PTS, +4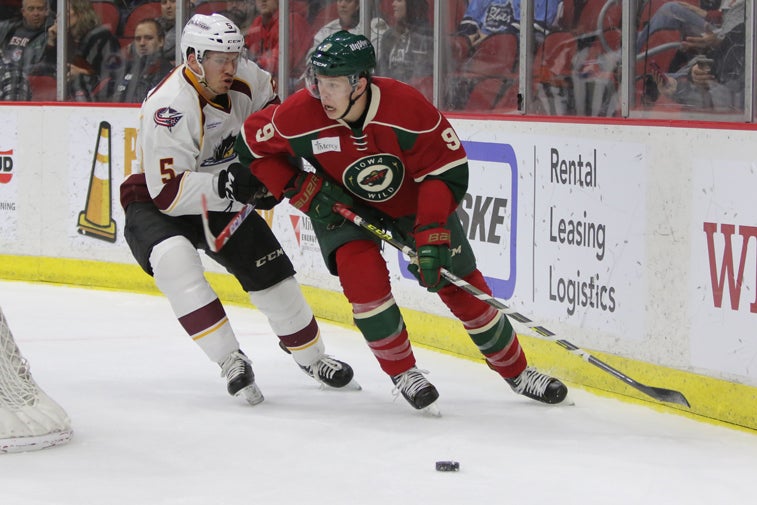 This defenseman improved greatly in numerous areas of the ice to have one of the best seasons by an Iowa Wild defenseman to date. Reilly increased his overall assist and point totals from his rookie campaign in 2015-16. In 57 games played, he led all defensemen in scoring with 25 assists and 30 points. His 25 assists rank as the second highest total by a defenseman in a single season, while his 30 points were the third highest in a season for an Iowa defender.
The biggest and most notable stat for the young defender is his plus-minus rating. He went from a -27 as a rookie to a +4 in his second season. A +31 improvement is a massive upgrade. As a matter of fact, he tied a team record with a +4 rating at Rockford on April 15, 2017.
Reilly increased his assists and points by seven. He was pivotal on the power play, picking up a team-high 13 power-play assists (PPA) and totaling 15 power-play points (PPP). Reilly's power-play numbers are comparable to some of the best seasons by a defenseman in Iowa history. Brian Connelly owns the team mark for PPP by a defender with 17 in 2013-14. He also set the team mark with 14 power-play assists in Iowa's inaugural season. Defenseman Jon Blum set a mark with eight power-play goals by a defenseman in 2014-15. He totaled 16 PPPs in Des Moines during the team's second season.
Reilly also set the mark for most shots on goal by a defenseman with 129 in 2016-17. He is among the franchise leaders in nearly every category for a defenseman.
Where Reilly Ranks in Iowa Wild History:
Games Played – 102 (5th among defensemen)
Goals – 10 (T-2nd among defensemen)
Assists - 43 (2nd among defensemen)
Points – 53 (2nd among defensemen)
Power-Play Goals – 5 (2nd among defensemen)
Power-Play Assists – 21 (2nd all-time, first among defensemen)
Power-Play Points – 26 (2nd among defensemen, 5th all-time)
Shots – 211 (2nd among defensemen)
More Further Reviews -
Alex Stalock
Zack Mitchell
Alex Tuch

Back to All