AFTER FURTHER REVIEW - ZACK MITCHELL
May 10, 2017
After Further Review
Over the next few weeks Iowawild.com will feature several players and how their season stacked up in Iowa Wild history.
Center / Right Wing – #23 Zack Mitchell
GP: 62 - 11 G - 11 A = 22 PTS, - 7
Statistically speaking, one may initially look at Zack Mitchell's season and think he had a disappointing season with 11 goals and 11 assists for 22 points in 62 games for Iowa in 2016-17. It's an easy argument, but not a true representation of his stellar season. Mitchell had his best season to date perhaps and here is why.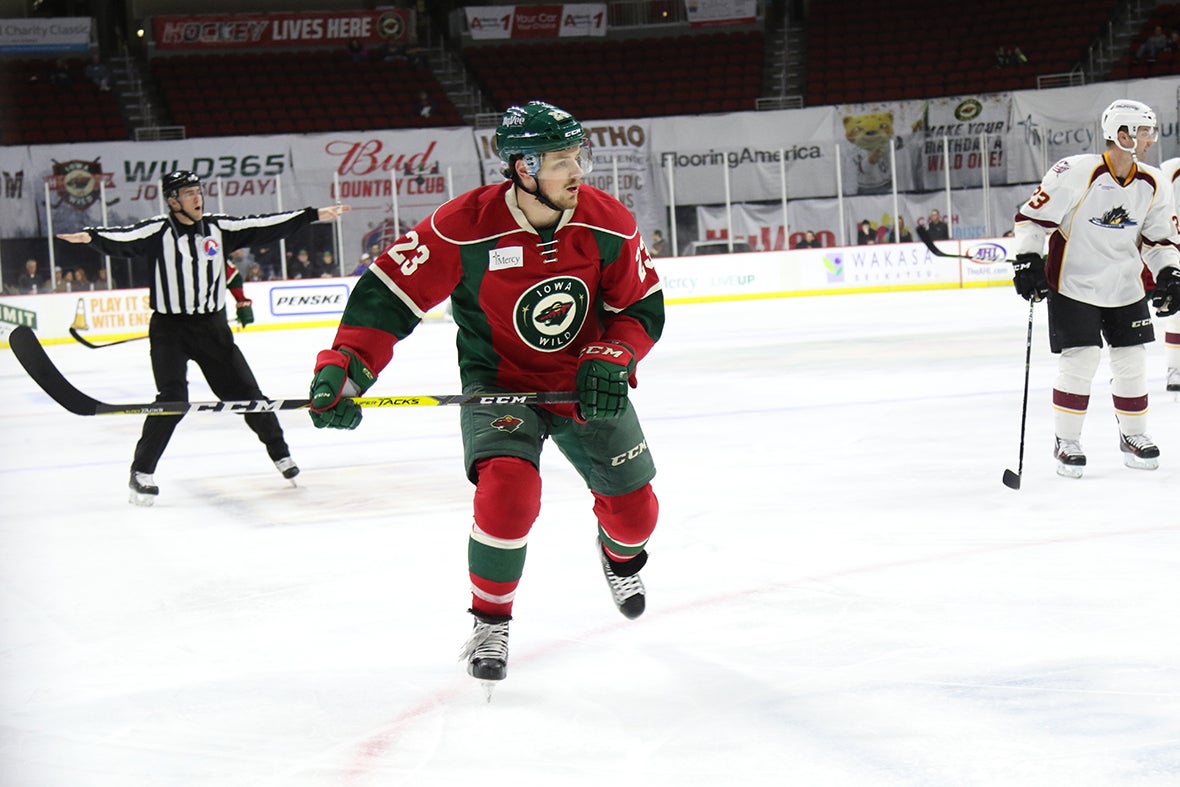 First off, he earned his first NHL call-up and made his NHL debut for Minnesota on Nov. 10, 2016 at Pittsburgh. He skated in 9:17 of ice time helping the Wild post a 4-2 win. In all, the undrafted, third-year pro played in 11 regular season games for the big club without earning his first NHL point.

True, his numbers were down after posting 17 goals as a rookie and 22 in his second season in Iowa, but he scored quality goals when his team needed it all year. Mitchell led the team with eight power-play goals this season and he was tied for second with four game-winning goals. He finished fourth overall on the squad with 12 power-play points. His signature goal of the season came in Cleveland on Feb. 4, 2017 – giving the Wild a 1-0 overtime win at the Quicken Loans Arena. WATCH NOW
Mitchell is among the franchise leaders in nearly every category, including the all-time games played leader with 208 regular season appearances. He became the first player in Iowa history to reach 200 career games with the club on Mar. 31, 2017 – a 4-0 loss at home to Chicago. His next point for Iowa will make him only the second player with 100 career points.
The Orangeville, ON native is all over the Iowa Wild record books.
Where Mitchell Ranks in Iowa Wild History:
Games Played – 208 (1st)
Goals – 50 (1st)
Assists -49 (3

rd

)
Points – 99 (2nd)
Game-Winning Goals – 10 (1st)
Power-Play Goals – 15 (2nd)
Power-Play Assists – 16 (2nd)
Power-Play Points – 31 (T-2nd)
First Goals – 12 (1st)
Overtime Goals - 3 (1st)
More Further Reviews:
Alex Stalock
Mike Reilly
Alex Tuch

Back to All